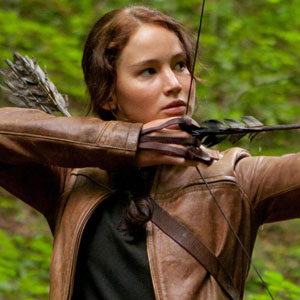 Murray Close/Lionsgate
We love when studios stick to their word (and we're not being sarcastic).
Just yesterday we reported that Lionsgate has been meeting with a couple directors in hopes of finding Gary Ross' replacement for The Hunger Games sequel, Catching Fire, which is supposed to start shooting this Fall.
And sources mentioned that we'd hear who got the job by the end of this week. Well, that day is today.
So who has the gig been offered to?!
MORE: Hunger Games Sequel: Who's on Lionsgate's Short List to Direct Catching Fire?
A source tells E! News that Lionsgate has tapped Francis Lawrence, who has directed Constantine, I Am Legend and more recently, Water for Elephants.
It reportedly came down to Lawrence and Bennett Miller, but observers claimed the I Am Legend director would be the optimal choice because of his open schedule, unlike Miller who was already working on another project, Foxcatcher.
Now all we need to know is who's going to be cast in the flick!
Do you think the studio made the right decision? And which celebs do you wanna see in the Quarter Quell? Let us know in the comments!
Read more:
http://ca.eonline.com/news/hunger_games_sequel_lionsgate_chooses/310263#ixzz1sZAiqa24