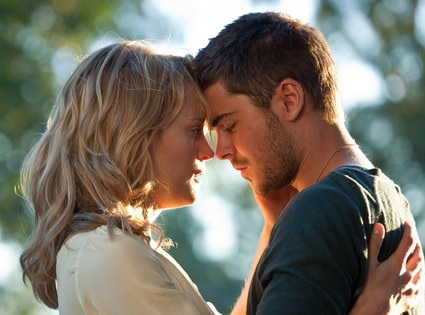 Warner Bros.
Review in a Hurry: Zac Efron has fallen in love with Taylor Schilling before he's even met her! When they do finally meet in this adaptation of yet another best-selling Nicholas Sparks' novel, sparks fly. Too bad the story lets the young stars down, relying way too much on the villainy of a small-town bully and enough miscommunication for a whole season of Three's Company.
RELATED: Zac Efron Gets Lucky With Costar: "It Felt Great"
The Bigger Picture: The film adaptation of Sparks' novel of The Notebook succeeded thanks in large part to the irresistible heat generated between Ryan Gosling and Rachel McAdams. The Lucky One could have been the same since Efron and Schilling have plenty of onscreen chemistry. There's even a successful nod to The Notebook's classic smooch in the rain. But director Scott Hicks (Shine) can't maintain the convincing love story without stumbling around numerous and unnecessary plot devices. Sparks' stories are always filled with artificial tension, but this time it threatens to undo the sole reason anyone sees these films: the love story.
Efron plays Logan, a U.S. Marine who finds a photograph amidst rubble in Iraq. As he steps away from his unit to grab it, a bomb goes off killing nearly everyone but him. Once he finishes his tour, Logan returns stateside determined to thank this unknown woman for saving his life.
Sure, the premise is over the top, but the first act, with Logan meeting his mystery woman, clicks. For Beth (Schilling) this former soldier seems a bit too reserved, too good to be true. He claims to have walked all the way from Colorado to New Orleans just to get a job at the kennel she runs? If she wasn't already adorable enough, she's surrounded by big fluffy dogs. Their cute first encounter develops into a romance and soon you're rooting for them.
As an actor, Efron is a charmer but still feels a bit green. He doesn't exactly sell his war wounds as much as go silent and let the flashbacks do the heavy lifting. Newcomer Schilling is the one to watch. With her natural good looks and her ever-changing range of emotions, she is a young actress that doesn't feel like yet another cookie-cutter starlet.
WATCH: Zac Efron Shows Us How to Unhok a Bra in a Single Flick!
But then there's all that other stuff that makes the film a chore to sit through.
Turns out Beth has an ex-husband who's not just a bully, but he's also the town sheriff and a drinker and his father runs the town. The trifecta of small-town villainy. Jay R. Ferguson (Mad Men) does what he can, but the character is just too one-dimensional. More over, Beth has a son (Riley Thomas Stewart) with a checklist of sad child ticks: a shy musician, gets picked on by other students, plays chess, etc.
The biggest annoyance by far is that the entire plot is anchored by Logan not telling Beth just how he came to find her in the first place. At 100 minutes, waiting for that Information Bomb to go off is beyond tedious. When it does finally happen, the fallout plays out in the most shrill and grating way.
The 180—a Second Opinion: Blythe Danner, who plays Beth's grandmother, is a delight. She almost serves as stand in for the audience rooting for Beth and Logan to fall in love while she tries to shoo away the lame plot devices. Ah, if only Blythe Danner could do that.