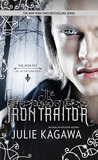 The Iron Traitor
by
Julie Kagawa
My rating:
3 of 5 stars
Love Love Love the cover it work so much with the content, what i do not like much is what starts happening towards the end...that is why it took me so long to write this review.
I was waiting so long for this book and i think my expectations were huge and that is why i am a little disappointed (don't get me wrong i love the book). Ethan is more like the "nanny" for his nephew Keirran , not as much action as the other, but i like that they go more into details about the forgotten once. However I do understand Keirran he does whatever he has too so he can have the fairy he loves.spoiler:
(view spoiler)
[ even going back to the summer court to 'beg' Tatiana to help him, but of course things turn into her favor and make the worst mistake of her life. (hide spoiler)]
.
Love the Megan treats Ethan , so funny , you can see how much she care about him but she wants hm to treat her normal not protecting her all the time because she is sick. Also she is always there for Keirran lifting his spirit every time another door is closed and look like is no hope for his love. However no matter how strong are all of them nobody prepares them for happens at the end (i don't see a way out of this). PLEASE DON'T READ IF YOU DID NOT READ THE BOOK spoiler:
(view spoiler)
[ hope ethan is not death or i honestly stop reading fantasy books where the main character dies. (hide spoiler)]
</["br"]></["br"]></["br"]></["br"]>
View all my reviews