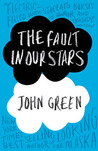 The Fault in Our Stars
by
John Green
My rating:
3 of 5 stars
Please do not read this if you love this book, for me even 3 stars is a push, is not that i do not enjoy reading it but i didn't love it.
Ok everyone love this book, and please do not blame me not to like much, and is not because i read most of the fantasy books. I have done reviews on lots of romance books, and even some about cancer. This book in particular is like i do now, i feel like the author is struggling at some parts, and maybe boring ( and i saw the movie too, i felt the same thing).
I like Hazel and Augustus romance and how much he wanted to make her happy, even to use his wish. I am sorry but it was boring at some parts and i had to skip pages more then once. I do not know if it was the details (to much) or the way they were explained to us. She can not go anywhere without having the oxygen with her, but she does not even think once how sick he is exactly.
This is only my opinion please do not be upset that i did not like for her using a wish to find out more about a book...yes i love books and drives me crazy what could it happen but that is not a wish to waste like that. I know from his point of view , knowing he did not have any way of getting better so he wanted to make her happy.
View all my reviews